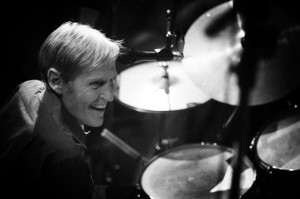 "It was like seeing the Rockies or the Grand Canyon," wrote Will Hermes in a piece for NPR on the passing of Levon Helm today at 71. That line, which refers to watching Helm perform the Band's "The Weight," "Up On Cripple Creek," and "Ophelia" at a show in the '90s, has been the best I've seen to describe the Levon-sized hole felt in the world of music today after this sad loss. Helm was not only one of the most influential drummers and singular vocalists of his generation; he seemed to embody the spirit of music itself — perhaps most keenly as a master of collaboration. Nowhere is the joy of making music more plainly represented than in that smile you'll see on Helm's face in almost every photo taken of the man.
Another thought that keeps springing up today is how much that inspired, positive spirit resulted in Helm being beloved as a person beyond just the music by fans and the artists with whom he shared the stage. On that note, a number of former bandmates and collaborators have begun sharing their reaction to his passing. More are sure to come, so we'll list notable recent quotes below and update as more arrive, starting with thoughts from Bob Dylan posted tonight:
Bob Dylan: "In response to Levon's passing: He was my bosom buddy friend to the end, one of the last true great spirits of my or any other generation. This is just so sad to talk about. I still can remember the first day I met him and the last day I saw him. We go back pretty far and had been through some trials together. I'm going to miss him, as I'm sure a whole lot of others will too."
Jeff Tweedy: "Levon was the glue, not just in The Band, but in all of what people think of when they think of North American music. He was a great unifier; a great glue. He unified blues and country, rural and city, and even North and South. Luckily he showed us all the way to keep it together and let it swing."
Loretta Lynn: "Levon Helm will always hold a special place in my heart. He was as great of an actor as a musician. For me watching him play the role of my daddy in 'Coal Miner's Daughter' is a memory I will always treasure."
Elton John: "When I heard The Band's Music from Big Pink, their music changed my life. And Levon was a big part of that band. Nigel Olson, my drummer, will tell you that every drummer that heard him was influenced by him. He was the greatest drummer and a wonderful singer and just a part of my life that was magical. They once flew down to see me in Philadelphia and I couldn't believe it. They were one of the greatest bands of all time. They really changed the face of music when their records came out. I had no idea he was sick so I'm very dismayed and shocked that he died so quickly. But now my son [Zachary Jackson Levon Furnish-John] has his name."
Bernie Taupin: "He participated in some of the greatest music I've ever heard and because of him and the boys in The Band, my soul is clearer of musical debris and tuned into the lyrical soul of the American heartland and the soul of Appalachia." Full essay here.
Billy Bragg: "The greatest singing drummer that ever lived has fallen silent."
Robbie Robertson: "Levon is one of the most extraordinary talented people I've ever known and very much like an older brother to me. I am so grateful I got to see him one last time and will miss him and love him forever."
Garth Hudson: "Levon Helm left us today at 1:30pm, Thursday, April 19, 2012. I am terribly sad. Thank you for 50 years of friendship and music. Memories that live on with us. No more sorrows, no more troubles, no more pain. He went peacefully to that beautiful marvelous wonderful place. He was Buddy Rich's favorite rock drummer… and my friend. Levon, I'm proud of you."
Elvis Costello: "He had it, he told, he sang and he played it in an unrepeatable, unbeatable fashion. Asked to describe the style of his playing, I once said his time- defying fills sounded like a tap-dancer jumping out of the corner of a rapidly flooding room. I can't top that this evening." – Costello's full essay here.
Martin Scorsese: "The late Jim Carroll once said that Levon Helm was the only drummer who could make you cry, and he was absolutely right. Levon's touch was so delicate, so   deft, that he gave you more than just a beat – he gave the music a pulse. And his high, ringing voice was just as soulful." More here.