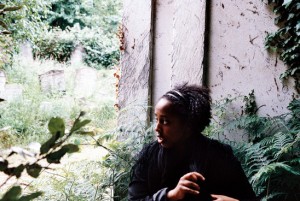 The origins of an artist's moniker don't always resonate with the nature of the material itself, but London-by-way-of-Canada singer Al Spx's Cold Specks seems born of a perfectly appropriate passage. Here's the line she pulled from James Joyce's Ulysses: "Born all in the dark wormy earth, cold specks of fire, evil, lights shining in the darkness." Indeed, these tunes feel driven by opposing forces of self-doubt and hope, but at their heart is a more nuanced questioning of faith that hits home on deeper levels upon repeated listens. "Holland" — Cold Specks' first preview single — leans toward the darkness, complete with an official video that finds images of beautiful symmetry on the planet before it descends into shots of tornadoes, industrialization, house fires, and the Hindenburg explosion. "Blank Maps" is a triumph over cynicism, though, and it's new clip is rife with hope — it's even uplifting. Check it out along with her recent cover of Swans' "Reeling the Liars In" below:
"Blank Maps" Video
"Reeling the Liars In" (Swans Cover)
I Predict A Graceful Expulsion, the debut LP from Cold Specks, is due out on May 22nd via Mute.