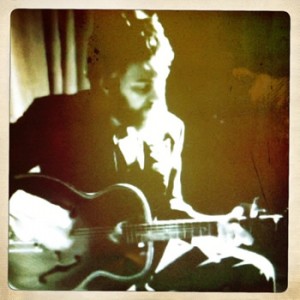 "Eth's got a mouth full of cookies!" Ever since Ryan Adams' Heartbreaker opened with that impromptu studio moment, dubbed "(Argument with David Rawlings Concerning Morrissey)," I've been drawn to the fact that both the joke's subject and the producer keeping the tape rolling on the cut are the same guy. As a first track on a solo debut, leaving it in seemed bold — one of a number of brave choices I've come to expect from Ethan Johns. Now over ten years later, Johns-captured moments have piled high aside the turntable: from the haunting glow that emerges around "Starlite Diner" on Adams' 29 to Ray LaMontagne's cathartic "Burn," to the dark undercurrent lurking beneath Laura Marling's "Hope In the Air," among too many others to mention. In short, the guy is a hero of mine, and his entire discography thus far cannot be recommended enough to fans of great songwriting.
As not only the producer on those sets but a multi-instrumentalist whose performances on them are notable in their own right, a new solo release seemed inevitable (Johns put out a hard-to-find solo record in 1991). Now his own tunes will finally see the light of day on an LP due this summer, complete with mixing by his father, legendary producer Glyn Johns, and guest appearances from a number of talented friends. With little fanfare, a first taste hit the web in March in the form of an official video for the moving acoustic cut "Whip-Poor-Will." Details were scarce and, needless to say, I had a number of burning questions, so it was a thrill to hear he digs this site and was up for an interview. Here are highlights from the lengthy phone chat between my humble 4-track setup in California and Johns' England studio.
I can't stop thinking about Laura Marling's speech when you won the Brit Award last month, where she mentioned your mantra of "stick 'em all in a room." Did recording your own material change this process or approach?
You know, it's the same thing as much as possible. The whole thing of making music with other people is so much more liberating. I think the main thing that's been kind of hanging me up all these years has been the fact that I've been… I wouldn't say intentionally locking myself away. I've never stopped writing songs. I've written probably since… I think I wrote my first song when I was like 11 years old. So I've been doing it forever. And I've always had a home-recording rig of some kind, whether it be a little 4-track, or I had a cassette 8-track for a while, and then I got a reel-to-reel 8-track. I remember my dad built a studio at our house when I was really young, but I found that I was more comfortable when I set up my little 8-track in the booth. I was always more comfortable in my little cave, you know, writing songs and making demos. Even when I had all that cool gear lying around I was still more comfortable with my little thing, you know. And it's great on so many levels. You can experiment, you get to do all this time. Being a multi-instrumentalist, if I wanted to put a bass on something, I'd do it, or if I wanted to play some keyboards, or whatever, I would always just do it on my own. As you do when you're recording at home a lot. You're in your bedroom at 3 o'clock in the morning, or whenever it is, and you're working on your own stuff.
It's a very comfortable place to be, but what that does is it inhibits the ability to have instantaneous communication with other people. You know what it's like, man, when you overdub something it's a one-way conversation.  If you're playing something to a track, no one else gets to respond to it. If you have a moment of inspiration when you're playing bass or whatever, the drummer doesn't get to say, "Oh, that was cool," and do something cool back.
For almost all of the recordings on this new album, they're all basically recorded with as many people as I could get. Sometimes it's just me and one other person, sometimes it's me and a handful of other people. And it really made the whole experience so much more enjoyable. But I also wanted to go into this process, like, not producing myself. I find that that whole ideal, that concept of an artist producing themself is kind of ridiculous. You know, if an artist is recording on their own, there is no producer, to my way of thinking. So I kind of took that concept one step further and I just got together with guys that were friends. And for every session we did — we recorded all over the place, lots of different studios — and I'd just say, "Look, whoever is in the room is a producer. We're all on equal footing. It doesn't matter who you are, what you're doing or what you perceive your role as being, if you're in the room, you're a producer on the track." And we just basically had a really good time! I never told anybody what to play. I had everybody just do what they wanted to do and things would go off on all kinds of weird tangents. Sometimes it wouldn't work and we wouldn't use that track, sometimes I'd end up with something that I could have never have thought of that was amazing.
A laid-back vibe. That sounds great.
Yeah, I had so much fun, I can't tell you. It was an absolute blast.
Did you do vocals live at the same time?
Every vocal on the record is sung live, bar one, I think, which I had to redo. So they're all live vocals, yeah.
I've found that if you start with a great vocal take, everything else will work out eventually.
Exactly. Well, that's it. That's the whole deal right there. It kind of begins and ends with that, really. Well, at least it does for me. I mean there's so many different ways of looking at it. You could take a guy like [Brian] Eno, who I have so much respect for… the trick is to be as wide open as you can, and to allow as many different ways for inspiration to enter your recording as possible. I think guys like Brian — who I don't know but who I have tremendous respect for — are pretty masterful at looking for new ways of just, kind of, opening the doors to inspiration and stuff. It's not like recording live with everybody in the room  is the only way to make an interesting record, because obviously it's not. We did some pretty interesting stuff on this record. There's a couple of tracks that were kind of problematical for me to try and find true versions of. I got pretty out there with a couple of guys for a few things. I'm really happy about this one song, which is pretty weird, but I love it.
So there were some out-there ideas you've had kicking around that you were finally able to try out?
Yeah, that's a nice position again for me to be in. But again, not that different from how the optimum sessions are. I try for as open a session as possible. I mean the coolest thing for me about this record was the fact that there's no label. Well, there aren't any other considerations really, which is a nice change. To be just doing it on your own terms and without any of the confusion that comes with other people's expectations of what things should be. It was a very direct creative process, which I really appreciated.
After all these years working on other people's records, what triggered putting out your own album?
It just felt right. I mean, there was a string of things that happened, I think. The first thing was I was making a record with Laura [Marling] a couple of years ago, and after we were mixing it, it was after a session one night chatting away, and we kept talking about songs. I played her a song of mine and she really liked it. And she said, "Well, look, I'm curating this folk night at the Royal Festival Hall. I'm getting all my pals together and we're going to have a big ol' meetup. And she said, "You should come along and sing this song for people." And I was like, "Oh man, I don't know if I can do it. It's Royal Festival Hall." And she was like, "No, come on man, it'll be cool. It's great. It's a great song and you're singing it well. Why don't you just come along?" So I did and I survived it, you know. [Laughs] And then that made me think, well, maybe I can do it.
Then this opportunity came up to open a few shows for Ray [LaMontagne] on a British tour of his, which I did. Again, I was petrified at first, but it went really well. And Ray's audience really appreciated my songs and stuff. It was just so much fun to get up and sing for people. I really had an amazing time. It was really rewarding for me, and I just thought, well, wow, maybe these things don't have to live on the shelf at my studio anymore. Maybe I can roll these out. Because it's so much fun.
So then the next thing that happened is my mate Jeremy Stacey — who is a great drummer, really good friend of mine — came down to hang out for a couple of days. We went in and the engineer that I work with a lot, Dom Monks, was around, and we put up a few mics and ended up cutting two tracks. Again, we just had a really good time and we listened back to the tracks and I was like, "Man, this is good. I like this." I know that sounds a little weird, but I had never really felt that good about it before, you know.
It's been hard for me to get to that point, to where you say, "Okay, I know this is really good."
I don't think you ever can, Peter. You know, honestly, if push came to shove, man, I don't know what's going on or if I'm any good or not. I mean, I don't think anybody ever really does. I don't know, maybe you do. But it gets to that point where if it's honest enough and you're not —  well, this is going to sound weird — but if you're not trying too hard and you're having fun and it's honest, then it doesn't really matter if it's any good or not in a weird kind of way.
Oh, wow. Yeah, it seems like even mistakes can work well at times…
Yes, it's overall feeling that you're trying to respond to as opposed to the details. And again, you have to rely on the people around you. Like the guys that I've been working with — Jeremy, Dom, Laura, Ryan, Danny Thompson has also been incredibly cool — all of these guys have helped me go, "This feels great, man. This take is great, man, don't question it." And they've been right. They've really helped me through the process. I can't judge my own stuff, man, I don't know, I don't like my stuff [laughs], you know what I mean?
 [Laughs] Yeah, I mean if someone like Ryan Adams digs it, it's like, "Okay, I can believe that."
Yeah! I mean, he's not going to bullshit me, or any of these guys, you know.
It's like, when I'm working with artists, I ask them to trust me in the same way when I hear a take that really hits me emotionally. And they go, "Oh, I was a bit flat there" or "that guitar mistake there" or whatever it is. I'm like, "Dude, it's your material, you know, it's the feeling. It's… how could you deny that take, it's so beautiful?" I'm asking them to trust me and so I then have to put myself in that position. I have to look to the people I respect and admire in the room and go, "Okay guys, what do you think?" And if everyone looks around and are like, "Yeah, man, that's the one, that's awesome," then great, okay. Because I can't judge it. I don't know. But it's the hardest thing in the world to do.
Given the amazing songwriters you've worked with, I'll bet you've been able to catch a glimpse into their process. Have you learned anything about writing songs from them?
Well, you're always learning about songwriting, I think. You're always learning from everybody you work with. I'm still learning so much from the people I work with.
I think the biggest period of time for me that really opened my eyes to the craft of great songwriting was when I moved out to L.A. for the second time, I met a guy named Jon Brion, who I'm sure you know of, and we became really good friends. After a couple of years — his best friend was Mark Flanagan, who owns and runs Largo — that crowd, through Jon and Flanny, had attracted a tremendous collection of songwriters. Like, Aimee Mann was a regular in that crowd, Elliott Smith was a regular in that crowd. And Jon was also an incredibly accomplished writer, as well. So hanging out with those guys regularly… There was an open house at Jon's every Sunday, it was a potluck and you'd bring food or whatever. And it was an incredible collection of people. Really interesting writers, too. There were a lot of comedians hanging out at the same time. Really, really good, artistic people. And also Rufus Wainwright was another guy who was kind of on the periphery of that scene. When you hang out with guys like that socially and in an environment like that, inevitably you start to talk about process.
I think the most important thing that I learned during that period of time was not to edit yourself. Obviously you hear about guys like Roald Dahl, who had a daily regimen where they would write everyday. It wouldn't matter what they were doing; they'd sit down for a set amount of time and they would write sides. The crucial thing was to open the gate. It didn't matter how uninspired you were; you had to sit down and write sides, and out of that you then edit. I think if there was one thing that I learned about writing that has probably been the most beneficial thing to me… Because I would constantly kind of hang myself up; I'd get stuck on a line and would dwell for half an hour on a word. And you're blocking your flow, then, by trying to find the perfect word. And sometimes you need to take a step back and look at the broader picture and just let things flow a little bit. And you might end up with three or four verses that all lead you to the perfect word you that you're looking for. But in the process you may find a road from A to B that you didn't necessarily know was there. So you can go back and edit. That was crucial. A lot of those guys have that in their process. So that was crucial. And doing it everyday, as well, was fascinating, which is sadly something I haven't built into my daily routine, mainly because I work so much on other people's records.I tend to really only give myself to one thing at a time. That's just the way I am. It's all or nothing with me. So, yeah yeah, I mean talk about lucky, man. To be hanging out with guys like Jon Brion…
[Laughter] Even if you go to a Jon Brion show at Largo or wherever, you can see that in action. He just takes the stage and follows the energy in the room wherever it takes him.
Exactly. And one of the great things that Jon used to say, that has always resonated with me, is that you have to be prepared to fail to reach the magic moments. And it's so true. If you put yourself out there far enough… It's pretty evident in his process when you go down to watch his show. You know, you don't go to one of Jon's shows to expect a really tight, well-oiled machine. You're not being entertained in the standard way for an hour and a half; you're going to go down and hopefully be entertained by watching the process of him finding his path. Then when you get those magic moments, they're so much more special than anything else that you'll see because you're watching those incredible unplanned moments of inspiration. I mean, he is a remarkable musician. He is one of the finest musicians I have ever come across, that guy. He just blows me away.
Speaking of moments of inspiration, have your sessions as a producer ever inspired impromptu recording of your own stuff afterward?
You know, I've never done that. I've never recorded my own stuff on anyone else's session. Like I say, when I'm in on someone else's album, that's all I'm doing. When I was on the road with Ray, I was writing. I wrote quite a few songs on this record on one of the tours I did with him a couple of years ago now. I was writing everyday at that point. I was writing in hotels or in dressing rooms. And I had my laptop with me, so I was making demos and stuff. A couple of pretty important songs on the album came from that.
Since you put all of your focus and energy on one project at a time, how do you settle on an artist to work with?
It's an instinctive thing that happens. I think the only way I can be a benefit to an artist is if they're inspiring to me. If I'm really fired up and inspired by something I hear, then I'm going to be of use to them. And it's, you know… the only thing I ever really want out of the music that I listen to is that: inspiration. So it's hard to kind of put it into words really. I get sent stuff, and every now and again something arrives and you just go "Oh man, that's incredible. Wouldn't it be great to produce some stuff with them?" It's pretty organic.
The best stuff just hits you immediately.
Yeah, yeah. In an instant you just know when it psychs you, when the special ones arrive. And I have to say, there never have been that many and there will never be… the special ones. That's why they're special: they don't grow on trees. I think I've been pretty damn lucky to have worked with the artists that I've worked with. I count my blessings everyday to be able to look back at some of the records that I've made and some of the artists that I've worked with. Pretty incredible stuff, really. Unbelievable, really.
Given that your projects are recorded at such high fidelity on analog equipment straight to tape, do you think about the music's consumption after it leaves the production process? A huge percentage of people are streaming songs now instead of downloading MP3s, and there's even a new "Mastered for iTunes" label being used for files calibrated specifically for that digital format.
Yeah, you can't really think about it too much. All you can really do is get the best sound that you can and try and make sure that makes it out there. I mean, you can't battle progress. Technologically speaking, I think there are so many positive aspects to the internet that you wouldn't want to do without it. I think we're at a really interesting point in history with regards to how the general population — also the industry — looks at music and what it means. My whole deal is to never underestimate the audience. Every individual person that listens to music has their own very special relationship to it.  And if you have an individual who puts on internet radio, or whatever it is, and is making themselves a cup of tea in the morning and they hear something they like, that's great. And it might prompt them to go down to their local record store and find that record on vinyl, if it's come out. Or it may enable them to buy the record really fast and enjoy it and either decide that that's enough for them or not. Or that they're going to go see them live or go prompt them to go find a better sounding version of the music that they've heard.  But I don't think you can judge anybody for enjoying music in the way that they do.
I do think there's been a bit of an issue with how music is valued. It's become a little more disposable, I think, in general, but not by much. It's easy to look back at the past with rose-colored glasses on, but we're looking through a filter. You go back to the top one hundred albums of 1974, the ratio of truly amazing music and amazing-sounding music may not have been that much greater than it is right now. Kind of goes back to what we were talking about before: the ratio of truly special artists. I don't think that's ever really changed. I mean there are more people in the world now than there were in 1974, so maybe the ratio has kind of changed a little bit, you know. Maybe it's like two out of  two hundred thousand as to one out of a hundred. [Laughs] I don't know that it's really changed that much. I guess I'm always trying to stay positive about everything and just look at the positive aspects of things as opposed to the negative aspects to things. And that just goes to how you live your life really. It would be pretty easy to wake up everyday and look out the window and want to bury your head in the sand. But then you'd be ignoring the beautiful side of life and who wants to do that with the time that they have here? So you just gotta do your best and do the work that you can do and do what you can within what you've been given.
A playlist of personal favorite tracks featuring Johns' work is here; his new solo song "Whip-Poor-Will" is here.