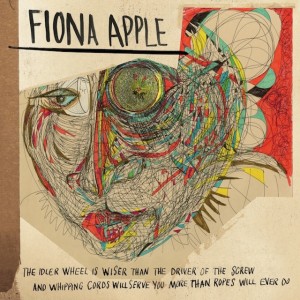 With only two weeks and change left until Fiona Apple's first album in 7 years arrives, details on the set's curious disappearance after being completed in 2010 remained scarce, not to mention a producer credit or other info on the record's backstory. Now Apple has tied up all those loose ends for a new profile in The New York Times — her first and only in-depth interview since announcing The Idler Wheel… back in March.
As it turns out, her frustration at a gig last fall was indeed over label issues: "Ms. Apple was delaying it until her label, Epic Records, found a new president," writes Jon Pareles. "She had not made a new album since 2005 and didn't want her work to be mishandled amid corporate disarray."
Also within the piece is confirmation that drummer Charley Drayton (not longtime collaborator Jon Brion) co-produced the LP with Apple, in keeping with 2010 reports, discussion of her "more empathetic" approach to relationship songs, and fun facts about percussion on the record, which includes throwing pebbles down a garbage shoot at the home of ex-boyfriend/magician David Blaine. "We threw a big huge water bottle down the spiral staircase," she said. "We hit the big water tank he uses to drown in." A must-read for any fan, check it out here.