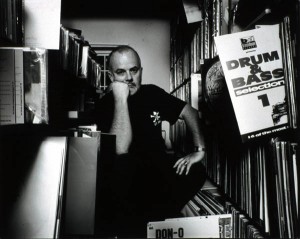 Six months of music discovery are ahead of us, as the late, great DJ John Peel left behind an incredible collection of 65,000 records (25K LPs, 40K singles) that began rolling out in online form today. A digital version of his radio studio and archives now exists on a site called The Space, where the John Peel Centre have uploaded the first hundred albums from his original A section, with another hundred arriving from each letter of the alphabet every week until October.
Original album artwork, tracklists, and index cards penned by Peel himself were all meticulously documented for the archive. "These cards have been scanned, often with typos, so we have tried to make it personal and make it feel the way that John kept his LPs," said Charlie Gauvain, whose Eye Film & Television made films for the online museum. What's more, the team behind this awesome project have provided links to stream audio from albums when available, including a SoundCloud for index card #001: Mike Absalom's 1969 LP, Save the Last Gherkin for Me.
So, without further ado, start exploring the first set from 2,600 pieces of wax to be shared from the home collection of one of the most influential broadcasters in music here. Below, revisit one of many classic Peel sessions: Joy Division performing their first-recorded rendition of  "Love Will Tear Us Apart" in 1979.