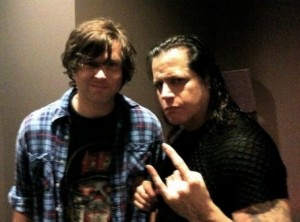 It was only a matter of time before the self-proclaimed "Danzig of alternative country" stripped down his hero's most famous song into a low-key solo number. "Everything is always about Danzig eventually. Danzig, good lovin' and pizza," Ryan Adams wrote  for The Awl in 2009, before sharing a fantasy about the pair meeting "for a two player run with some or all the members of Whitesnake." A year later came their real-life introduction (complete with photo op) and now for the inevitable acoustic homage.
Adams brought out the tune for encores along a few European dates earlier this month, including this version in Paris appropriately (or inappropriately, depending on mom's taste for the macabre) just ahead of Mother's Day. Hear a decent recording below:
We've said it before, but let's say it again: these acoustic metal covers ("Wasted Years," "Round and Round," et al.) would make for a fine covers EP.