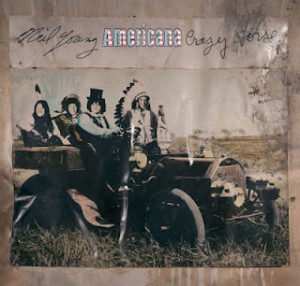 We've been hearing previews of their highly anticipated record for a few weeks, but now Neil Young & Crazy Horse's reunion LP, Americana, has arrived to stream in full. Young and most of the original Crazy Horse lineup reworked traditional tunes dating back to the 1800s for the record, proving once and for all that these guys can not only create timeless cuts, but they can revitalize the music from past centuries as well. Neil himself put it best:
"What ties these songs together is the fact that while they may represent an America that may no longer exist, the emotions and scenarios behind these songs still resonate with what's going on in the country today with equal, if not greater impact nearly 200 years later."
The result are 11 sprawling cuts, left decidedly unpolished yet completely rousing in their diamond-in-the-rough form. In short, any fellow longtime fans of Young's grunge-inspiring, anthemic rock material ("Rockin' in the Free World," et al.) of the past few decades should find the format refreshing — or at least a welcome chance to glimpse the boys jamming in the barn while the tape is rolling.
So, without further ado, reflect on Memorial Day with the most patriotic record of the year here.