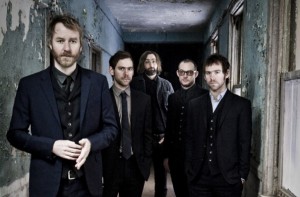 The National's streak of fine soundtrack tunes continues today with "Castamere," the quintet's new contribution to the George R. R. Martin-penned medieval fantasy series Game of Thrones. While lyrics for their previous two OST cuts — "Exile Vilify" for Portal 2 and "Think You Can Wait" — were dreamt up by Matt Berninger and Co. themselves, "Castamere" is an interpretation from a song pulled directly from the series, originally dubbed "The Rains of Castamere."
Atop a cinematic (and yes, appropriately regal) backdrop, Berninger's baritone would sound right at home in West Eros here — or even on a National record, if they were ever so inclined. Give it a spin after the jump:
In related news, the National announced another fantasy fiction project this week: Dragon Brush, a new iPad app for kids featuring music by Bryce and Aaron Dessner to accompany Berninger's narration of the story.