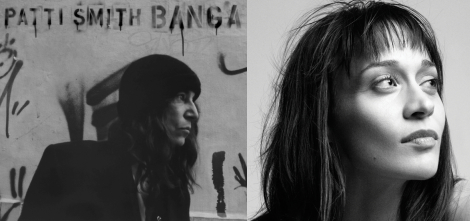 We were just pointing out the then-lack of interviews ahead of Fiona Apple's 4th album when, lo and behold, they've hit the web in droves. While last week's New York Times piece cleared up the story behind an extended (even by Fiona standards) hiatus between records, today's Pitchfork interview is a must-bookmark for longtime fans. Complete with lengthy, open responses, the article lets you in on just about all you might want to glimpse from behind the curtain of the semi-reclusive songwriter.
But now for the most important update: new tunes. Apple has studio versions of three tracks off The Idler Wheel… currently streaming online. Following up opening track "Every Single Night", this weekend showcased co-producer Charley Drayton's impact on the more percussive side of the record in the form of "Anything We Want", streaming here, and "Werewolf", a horror film-inspired relationship song spinning thataway. All told at this stage, LP4 is shaping up to be the most intimate, sparsely arranged set from Apple yet.
Also today, living rock legend Patti Smith shared the title track to her new record, Banga, marking our third preview of that album as well. "Fuji-san" is over at NPR, "Banga" — a song based on Pontius Pilate's dog in Mikhail Bulgakov novel The Master and Margarita — is on Rolling Stone. Footage from the live premiere of Smith's Amy Winehouse tribute, "This Is the Girl", is here.