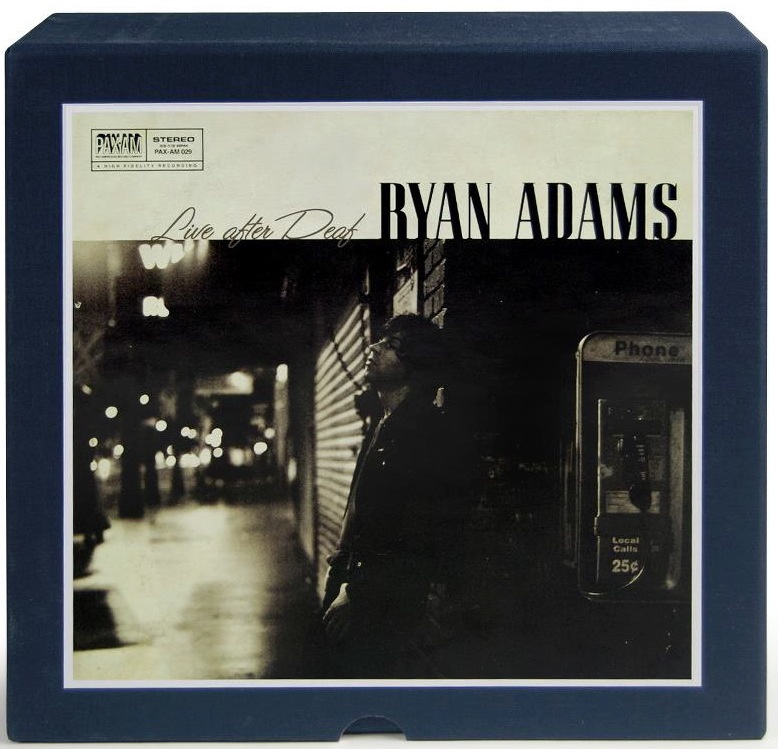 Last night, Ryan Adams shared a semi-cryptic teaser for what appears to be a vinyl box set arriving in just two days. "Live After Deaf. Friday. This will not be repressed," he said on Facebook, captioning this photo of album packaging. While that leaves a number of unanswered questions regarding the follow-up to last year's studio effort, Ashes & Fire, all signs are pointing to a set of live recordings from recent tours. Update: More details…
144 tracks of live acoustic Ryan spread across 15 vinyl discs…with a download card featuring all 144 tracks PLUS an additional 74 digital-only bonus tracks (yup, that's a total of 218 tracks) all in a heavyweight cloth box. Super Duper limited numbers available ONLY at http://paxamrecords.com/ beginning 1:30 p.m. EST on Friday, June 15
Here's my speculation:
The title alludes to Adams' ongoing fight with an inner ear disorder called Ménière's disease, a topic discussed at length in interviews for the latest LP. Describing his 2009 "step back" from performing, he's said concerts that year involved "a lot of vertigo, balance issues, and problems with depth perception," though the condition has since improved enough to make recent tours possible.
As Billboard points out, Adams' long-held open taping policy at shows was suspended of late before bootleggers were assured that live recordings were being prepped for official release.
Finally, Adams' beloved Iron Maiden put out a similarly titled live record, Live After Death, back in 1985. Given that his catalog is packed with puns based on the work of his heroes, this fits the live album scenario even more.
Now here's hoping those acoustic metal covers from Maiden, Danzig, Ratt, et al. made the cut.