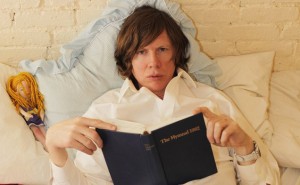 "That sound that you have is a sound that I've always been using when I improvise, when I do noise improvisation," Thurston Moore once told Michael Chapman, referring to the innovative use of feedback-laced acoustic arrangements on Chapman's 1972 album, Millstone Grit. Following that 2009 interview for Fretboard Journal, Moore convinced him to record improvised material for the first time. The result, The Resurrection And Revenge Of The Clayton Peacock, was released on Moore's own Ecstatic Peace Records two years later.
Now, in the wake of Tompkins Square's recent reissuing of the first two Chapman LPs, Rainmaker and Fully Qualified Survivor, Moore returns alongside fellow artists and contemporaries inspired by the avant-folk veteran to honor his hero with an unplugged rendition of 1969 cut "It Didn't Work Out". A lot has been written about the impact of Beck on Demolished Thoughts, the 2011 solo record he produced and performed on with Moore, but once you hear how well this cover could have fit on that set, it's clear the album's use of dissonance and resolve more closely draws influence from his English forebear. Hear the take, made all the more heartbreaking by Moore's disaffected edge, above.
Oh Michael, Look What You've Done : Friends Play Michael Chapman, which includes contributions from Lucinda Williams, Hiss Golden Messenger, Meg Baird, and many more, is available now.