By Casey Newton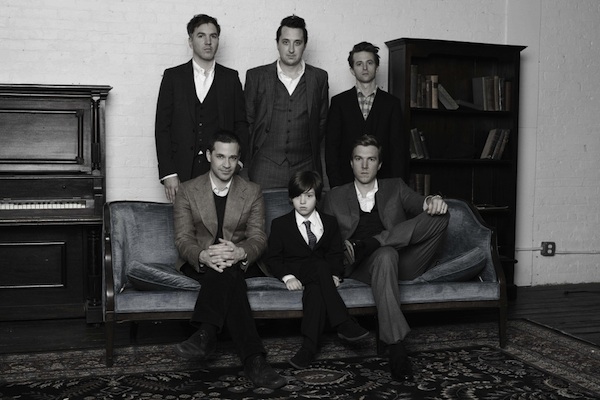 The great subject of indie rock over the past decade or so has been failure. Ryan Adams and Bon Iver went through devastating breakups; the National and the Wrens trudged into adulthood and despaired over what they found. Wilco and Death Cab discovered the agony of communicating, up close and long distance. Bedroom poets surveyed their surroundings and recoiled, sometimes in good humor (as with Belle & Sebastian) but more often in fear (as with EMA). For optimism you were better off looking to the dance world or hip-hop — or, if that wasn't your style, to the Arcade Fire, who alone among their indie-rock peers managed to take a cold-eyed look at the world and emerge confident things would get better.
Against such a backdrop it is little wonder that the Walkmen found favor. "We've Been Had," they announced on their first album, which came out 10 years ago this spring, and was called Everyone Who Pretended to Like Me Is Gone. It was an auspicious debut. The hallmarks of the band's sound were already in place — a twinkling upright piano, a fondness for old-timey guitars, and above all Hamilton Leithauser's voice, a great wounded howl that conveys untold disappointment. "Somehow it got easy to laugh out loud," he sang in that song, but it was a drunken laugh, a cynical laugh. On Bows and Arrows, their next record, they gave us "The Rat," in which Leithauser screams and screams at a lover only to realize, in the song's pensive bridge, that he is alone — that his friends have left him, that he rarely leaves the house. As ferocious a song as they ever released, "The Rat" set our expectations for who the Walkmen would always be — dejected but defiant, alone but still alive.
There is nothing in "The Rat" that could prepare us for Heaven, the band's seventh album and maybe their best. It opens with the hushed folk of "We Can't Be Beat," and Leithauser's first words promise another record full of dread: "I was the Duke of Earl, the Duke of Earl, but it couldn't last / I was the Pony Express, but I ran out of gas." But then Leithauser turns his back on dejection, and lays out the great theme of the album: "Golden dreams all lose their glow — I don't need perfection, I love the whole." Heaven turns out to be an embrace of family, friends and all they bring into our lives. "Loneliness will run you through," Leithauser sings. "All the kids are laughing, I'm laughing too." This is a sober laugh, a joyful laugh. Surrounded by the ones he loves, Leithauser allows himself a sigh of relief. Heaven is a place on earth, after all.
It's tempting to leave it there — to let the rest of Heaven alone and simply enjoy it as the story of a man outrunning his doubts. But even among critics who like the record, there is a sense that Heaven disappoints. All the misty paeans to family life — who are these softies? "After 10 years together, a band typically grows more polished and mature," writes Ben Schumer in Under the Radar. "But it's difficult not to feel that something essential and elemental to the Walkmen's aesthetic is missing from most of Heaven — that palpable sense of urgency on display throughout their catalogue is on display far too little." Matthew Fiander, writing in PopMatters, is similarly troubled. "Though the quiet moments have their charms," he writes, "You do wish all this joy and certainty had a bit more of a pulse." I myself have scorned records borne out of contentment — writing about Wilco's The Whole Love here last year, I declared that "as an aesthetic project, bliss is a nonstarter." But is it?
* * *
A Walkmen memory: the last day of September, 2009. It's close to midnight inside One-Eyed Jacks, a smoky New Orleans club that is perhaps half full. The Walkmen take the stage to cheers and wheel into a song off You & Me, a great murky record whose acoustics were dredged from a swamp. Sweating through "In the New Year," Leithauser should appear triumphant. But instead he looks jittery and distracted; this is a man ill at ease in his own skin — in his own voice, even. Consonants and vowels, extruded through the meat grinder of his vocal chords, emerge nearly unrecognizable. In those shredded notes he conveys every sadness life ever dealt him. He refuses to look at the crowd, instead staring over our heads, as if mapping his escape. Hulking and handsome, striking warrior poses, baying at the moon — he looks like he has something to prove to his dad.
For the encore a brass ensemble comes out. One of the players, a lovely woman brandishing a shiny gold trumpet, is Leithauser's wife. For the first time all night he smiles. The band plays a cover of the Kinks' "Come Dancing," a song that dates to 1982 but sounds older. It's a tribute to the dance halls of a bygone age, and Leithauser and wife get caught up in its soft-focus nostalgia. As music the band's "Come Dancing" comes off as wobbly karaoke, but as a spectacle it could not be more charming. This is what love means to Leithauser, I think now, looking back. You scream for an hour and a half to a crowd so small it will barely cover the gas it cost you to get here, a crowd thin enough that you can make out individual faces shouting these difficult words you wrote right back at you — and then suddenly there she is at your side, the pretty girl with the trumpet, and you take a deep breath and relax your shoulders and you smile and make music together.
* * *
You couldn't make a good record about only the last part of that story, I don't think. About the moment all of a man's worries dissolve into hard-won peace. There would be something essential and elemental missing from the music. The joy and certainty would lack a pulse.
But the thing about Heaven is that it tells both parts of the story. Good and bad, war and peace. A struggle that leads to joy. It's easy to fixate on a song like "Heartbreaker," with its declaration that "these are the good years, the best we'll ever know." But there's a flip side, too. Stuck like a dagger in the record's second half is "The Love You Love," where all Leithauser's old doubts return to haunt him. "You don't love me, just the kissing," it begins. On the chorus he goes a step further: "It's the love you love — not me." Even in the best of times, the band tells us here, it's a struggle. "Song for Leigh" is among the least maudlin songs ever written by a rock star to a child — in its refrain, a wound-up Leithauser howls "I sing myself sick about you." His love for his daughter is shadowed by worry.
These opposing views find balance on "Line By Line," Heaven's magnetic centerpiece. In it, Leithauser offers a spooky lullaby for the end of the world. "Now I know how the story goes," he sings. "The wicked all will die." We have never heard him so serene. Karma is real and is taking its course. "I've seen how this poor thing ends — the honest man survives." Strings offer a gentle lift, and Leithauser offers this blessing: "Line by line, we all scrape by."
Indie rock abhors a happy ending. When the knife-stab guitar lines go mellow and the drums fall quiet, and the bitterness of youth gives way to sudden contentment, cries of "dad rock" will ring out across the land. We remain transfixed by the failure brigade, by their catalog of everything that could ever go wrong. We measure a band's pulse with a decibel meter and nothing else.
On Heaven the Walkmen bring a hard-won wisdom to bear on some of life's most enduring problems and emerge filled with gratitude and hope. It is the least likely ending to the band's story and all the more heartening for it. Life throws its punches and they keep getting up. That is what is essential and elemental about the Walkmen. That is a truer measure of the band's pulse. Line by line, they scrape by. Years ago Hamilton Leithauser compared himself to vermin because he had never felt so low. But the name fit him in other ways, too. It will take more than life to crush his spirit. The rat is a hard beast to kill.
Casey Newton is a writer living in San Francisco. He blogs at crumbler.tumblr.com.