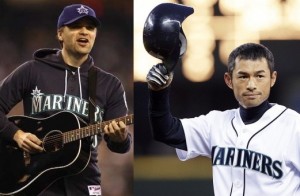 Longtime Mariners slugger Ichiro Suzuki was traded to the Yankees today, and Ben Gibbard — a hometown fan of Suzuki's former MLB team who once performed with Death Cab at Seattle's Safeco Field in 2010 — is here to pay homage. "Ichiro's Theme" was written "a few years ago" in honor of the beloved outfielder, but "today seems like the best day to let you all hear it," he says.
Beyond its apropos arrival date, though, this tune packs hooks and an upbeat feel in line with the baseball spirit John Fogerty instilled in his mid-'80s tribute to the game, "Centerfield." (A quick pivot from Gibbard's last one-off from the vaults, covering of Stars' "Set Yourself on Fire.") Hear it below:
Ben Gibbard – Ichiro's Theme
Gibbard's debut solo album, Former Lives (allegedly not a reference to Field of Dreams), arrives on October 16th.