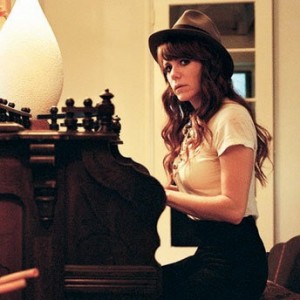 It's been two years since Jenny Lewis' last studio LP with Johnathan Rice, but now a pair of new projects are on the way — her first since Rilo Kiley broke up last summer. In addition to Rilo Kiley's long-awaited B-sides collection ("We've been listening and sorting through all these songs from 1998 and just the tone of what I was writing back then was so sad, so dark."), Lewis is halfway through writing the follow-up to her sophomore solo record, 2008's Acid Tongue, and composing the score to writer/director Naomi Foner's forthcoming feature, Very Good Girls. What's more, a press release for the film (via the Playlist) adds that Lewis will be the project's music supervisor, suggesting we might expect tracks from a number of her talented friends as well.
As for inspiration for new material, the interview with OC Weekly quoted above also offered this quote (which works equally well for the movie's subject matter or the LP set):
I've gotten my heart broken, and fallen in love, and moved out my shitty rent-controlled apartment, and lost my father, and tried to rebuild my relationship with my mother. All of these things have definitely popped up in my songs and I want to write something that's real that people can feel.
Both projects are underway now, but in the meantime, Lewis and Rabbit Fur Coat partners the Watson Twins began road-testing tunes over the summer. This promising new one, "Head Under Water," debuted in Big Sur last month:
Previously: Jenny Lewis & Friend – "Just One of the Guys"