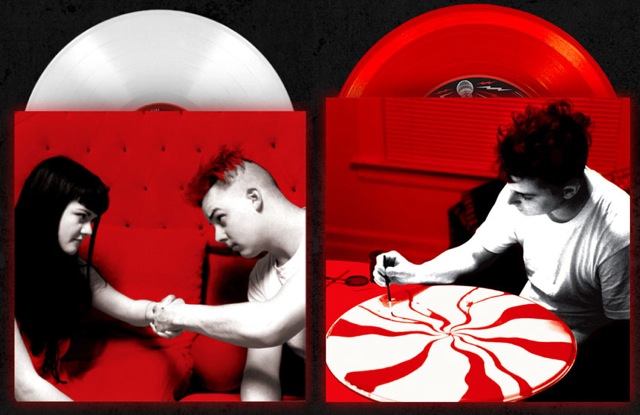 While many bootlegs from the humble, Detroit dive bar era of the White Stripes (e.g. 4th Street Fair videos) have been circulating for years, their earliest 1997 shows have been harder to come by. 15 years ago this Saturday, however, someone thought to hit record on the soundboard of their Bastille Day live debut at the Gold Dollar's open mic night. With only a dozen or so attendees, Jack and Meg White launched what would become one of the biggest duos in the next decade with a pair of covers, plus one original: "St. James Infirmary," "Love Potion #9″ and ""Jimmy the Exploder." A month later they returned for a full set, more covers and originals in tow. Now Third Man Records are releasing these inaugural gigs for their latest The Vault subscription package.
What's more, Jack's hand-painted peppermint from 1998 will be included in tote bag from — a sort of minor nostalgia piece, perhaps, but more interesting when considering a favorite story from the Gold Dollar years:
Jack: Those records me and Dave Buick did when we hand-painted them… Those are some good ones. You remember that show when we painted those singles for Lafayette Blues? We pitched up six dollars for them. I remember me and Ben were talking, Aw that's too much! No-one's gonna buy it at the Gold Dollar for six dollars. Hahaha! Then we went in to sell them and you can't pick! You had to buy the first one, and there was a ton of people standing around waiting for someone to buy the first one, because they didn't want the first one. They wanted the tenth one. There was one with a giant picture of Meg sticking her tongue out on one of them, which Dave made. It's funny stuff – thinking no-one's gonna buy them for 6 dollars, now they're going for 2700!

Meg: No-one's gonna buy this, they haven't even got sleeves. They had to make up the sleeves!