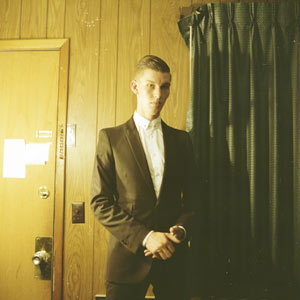 "When I arrived in Nashville, there were thunderstorms every night," Willy Moon says on a phone call from London. "I thought, 'This is kind of perfect. It might coalesce into something.'"
And indeed it did: a music video for his new Third Man Records single, "Railroad Track," finds the ever-dapper upstart strutting among abandoned Music City homes, performing for an empty dive bar and ominously wielding a handgun — a collage of near-lifeless images put in glittering relief by Moon's vibrant presence and thunder-like fireworks. The more he describes his travels, the more this trip feels exemplary of Moon's creative approach: explore unfamiliar terrain with an open mind, collect ideas, keep moving and the muse will find you.
"For 'Railroad Track,' I wanted to make a song that was inspired by as much Ennio Morricone soundtracks of Sergio Leone films as a gospel blues, Robert Johnson and the crossroads kind of thing," he says. "Escaping life, selling souls to the Devil and all that fascinated me." With whistling drawn from Morricone-scored spaghetti westerns (an area Third Man's Jack White recently visited alongside Danger Mouse) and a gospel choir in the mix, Moon's own vision took shape: "I just put together a whole bunch of sounds and, over time, it's like a sculpture, chipping away at it until a picture emerges."
Born in New Zealand, Moon bought a one-way ticket to London at 18, then ventured to Spain, Morrocco and Berlin before returning to the U.K. with a suitcase brimming with ideas plucked from varied experiences. The first result, "I Wanna Be Your Man," feels wholly different from his latest track — like Cab Calloway filtered through an industrial dance mindset. "Every piece of music I do I find comes from a different approach," he explains. "It's really trial and error. I'll try a couple different things and then something will click." He may borrow from the greats, but in the vein of something Bob Dylan once sung, Moon abides by the "don't look back" mantra:
You can retread the same idea, which a lot of people do to varying degrees of success, but I'm not interested in that. I'm interested in exploring different ways of doing things and different avenues. I kind of feel like if a song doesn't sound fresh or interesting or new to me, then I don't really see the point.
From the American south to post-industrial cities in Europe, Moon has journeyed through a lot of rock's geographical history in the past few years. And wherever he goes, it seems, the muse catches up: On a recent layover in San Francisco, he stumbled into Golden Gate Park. "Dazed and confused already" from a 15-hour flight, he became moved by the scene of an outdoor concert headlined by psychedelic-rock bands of the region's iconic 1960s era. "I wanted to stay! I just thought, 'Fuck it, I'm just going to stay here. But I ended up going to London." Who knows how that day might find its place along Moon's next track.
"Railroad Track" was co-produced by Pulp's Steve Mackey and comes backed by an excellent cover of "Bang Bang (My Baby Shot Me Down)." It can be purchased on 7″ vinyl via Third Man Records here.