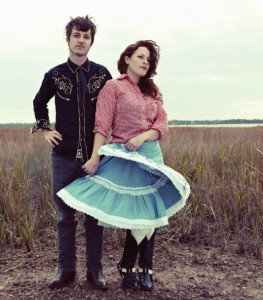 Often when considering new music to share, this David Foster Wallace quote comes to mind:
…it seems like the big distinction between good art and so-so art lies somewhere in the art's heart's purpose, the agenda of the consciousness behind the text. It's got something to do with love. With having the discipline to talk out of the part of yourself that can love instead of the part that just wants to be loved.
While I'd argue that any artist we've suggested fits this sentiment, Shovels & Rope seem to embody it most this week. KEXP championed the duo with a string of live clips over the summer — from an unplugged take in the Pacific Northwest woods to live in the radio station's studio — and each cut has been rife with that kind of pure self-expression Wallace points out. Below, check out two standout clips that show the impressive range of emotion Cary Ann Hearst and Michael Trent can summon with inspired results:
"Lay Low" (Live at Pickathon)
"Hail Hail" (In-Studio Session)
Both of these tunes appear on Shovel & Rope's new album, O' Be Joyful.