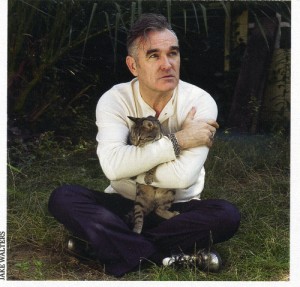 "The Smiths are never, ever, ever, ever, ever, ever, ever, ever going to reunite – ever," Morrissey's rep told Rolling Stone today in the wake of fresh reunion rumors and a new interview, in which he revealed Coachella has offered a "100% vegetarian event" for a Marr and Moz set (sans Mike Joyce and Andy Rourke). Now with another debunked report under his belt, perhaps Morrissey can get back to whittling down the 660-page memoir he drafted last spring or a follow-up to 2009's Years of Refusal. The latter project, however, has apparently stalled:
We were ready to record the album 18 months ago, but there were no takers. I was recently approached by Sony, but the offer was so poor that I'd end up paying for everything with my own personal finances yet splitting the profit with the label. It doesn't make sense.
That quote is from last week's Herald Sun article, where Morrissey added, "The horizon remains bleak. But I accept it now. I exist only in the live arena, or on YouTube, and that's the full extent of it." Alas, four unreleased cuts debuted in 2011 will live on in this "Studio in Session" clip. It's a pretty solid view of his late-career solo work, though, as Moz and Co. tear through new songs live in Dublin's Temple Lane and Richmond, England's State of the Ark studios. Watch producer Tony Visconti lead the session above.