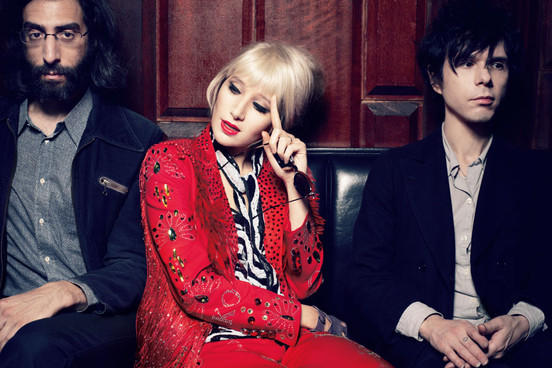 Following some busy years spent on solo forays, a psycho-opera, side projects and a tribute show or two, Yeah Yeah Yeahs are back with a new studio album in tow. Mosquito, their follow-up to 2009's It's Blitz!, hits on April 16th. A number of past collaborators joined the trio for LP4 recording sessions, including longtime band cohort/Karen O collaborator Dave Sitek and co-producer Nick Launay. Meanwhile, LCD Soundsystem's James Murphy teamed up for one cut featuring guest vocals by Kool Keith. O, Nick Zinner, and Brian Chase returned to the stage the other night, as well, where they unveiled new material live in Pomona, California. Above, preview the album's title track via decent fan-shot footage that surfaced on Sunday morning.
Per the clip, perhaps YYYs are conjuring the carnal spirit of their debut, Fever To Tell, a bit. For her part, here's what Karen O says of the next step:
I think this record has more moodier and tripped-out songs than you've ever heard from us. You might catch some roots reggae and minimalist psychedelia influences in there. This is a feel good, food for the soul, chicken soup for the ears Yeah Yeah Yeahs record — which doesn't mean easy listening — it means kind of raw, kind of chaotic, kind of dreamy. Very us.

Today's 1-minute teaser trailer suggests that's a very accurate sonic recipe: